Are you looking for a makeup style that will make you look natural and beautiful? If so, you should consider trying the following natural wedding makeup looks. These looks are perfect for brides who want to look their best on their big day without wearing a lot of makeup. Read on to learn more about these styles, and see which one is right for you.
Gorgeous natural wedding makeup looks to try
Your wedding day is one of the most important days of your life, and you want to look and feel your best. Whether you're looking for a natural or glamorous look, there are some things to keep in mind regarding your wedding day makeup.
For a natural look, less is more. You want to enhance your features without looking like you're wearing a lot of makeup. Stick to light colors that complement your skin tone and use a minimal amount of product.
If you're going for a more glamorous look, don't be afraid to experiment with bolder colors and heavier products. Make sure everything is well blended so you don't end up with harsh lines.
For a truly natural look, skip the foundation and focus on concealer and powder to even out your skin tone. Use a light hand when applying these products, and blend well. A touch of bronzer can also give you a healthy, sun-kissed look.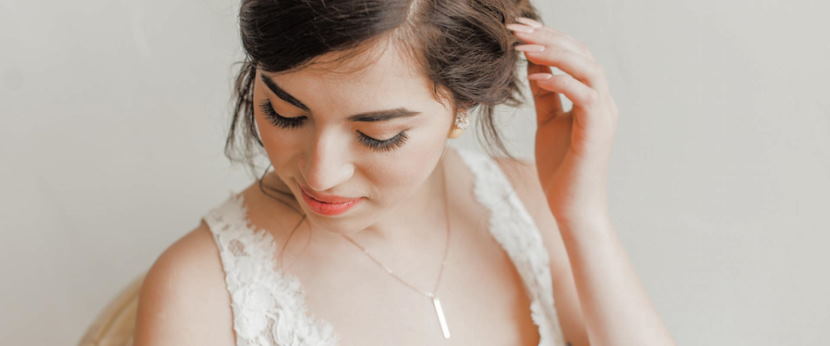 For your eyes, opt for earth tones like brown or green. Next, use white or nude eyeliner on your lower lash line to make your eyes pop. Next, curl your lashes and apply a couple of coats of mascara.
For your lips, go for a nude or light pink shade. Try a coral or peachy hue if you want a bit more color. And don't forget the lip balm!
No matter what look you're going for, make sure your makeup is long-lasting, so you don't have to worry about it melting or smudging throughout the day. Use a primer to help your makeup stay in place, and set your makeup with a setting spray.
Wedding day makeup should be about enhancing your natural beauty, so make sure you feel comfortable and confident in whatever look you choose.
Natural glam wedding makeup
As you can see, many things to consider when doing your wedding makeup. But don't worry, with a little planning and some helpful tips, you can create a stunning look that will last all night long.
Here are some tips for creating natural glam wedding makeup:
Start with a clean canvas. Cleanse, tone, and moisturize your skin before starting your makeup routine. This will help create a smooth base for your foundation and concealer.
Use a primer. A good primer will help your makeup last longer and give you a more even application.
Choose a long-wearing foundation. This is especially important for weddings since you want your makeup to look fresh and flawless all day long.
Conceal any imperfections. Use a concealer to hide any blemishes or dark circles.
Apply a natural-looking blush. A peachy or nude blush will give you a pretty, natural flush of color.
Highlight your best features. Use a highlighter on your cheekbones, brow bones, and down the center of your nose to create a glamorous glow.
Define your eyes. Use an eyeliner pencil or liquid liner to define your eyes. You can also add some false lashes for extra drama.
Fill in your brows. Shaped brows can frame your face and make a big difference in your overall look. Use a brow pencil or powder to fill in any sparse areas.
Add some color to your lips. Pretty pink or nude lipstick will complement your natural makeup look perfectly.
Set your makeup. Be sure to use a setting powder or spray to keep your makeup in place all day.
With these tips, you can create a beautiful, natural, glam wedding makeup look that will last from the ceremony to the reception and beyond. Remember to start with a clean face, use primer, choose a long-wearing foundation, and set your makeup with a setting powder or spray. Then, with some planning and helpful tips, you can create a stunning makeup look that will wow your guests and makes you feel like a million bucks on your big day.